We interrupt a Fred train of thought already in progress...

- My music player search has brought me to MediaMonkey which fits several of the following I'm looking for:

- Active directory monitoring to keep an eye on what I add and remove from my music folder (though it's in the paid version)
- Album art display (because this was far too cool of a feature in iTunes)
- Low memory footprint (because iTunes blew me away with the amount of memory it hogged)
- Responsive searching (The search list updates as I type in each new letter of my search term)
- Complete deleting ability (I can delete files/songs from my hard drive directly from the playlist)
- Separate playlist and library windows (I wasn't initially looking for this feature, but I've really come to appreciate it.

If someone has any suggestion for another player that fits these criteria, I'd be more than willing to check it out. Bonus points if you can tell me how to configure Foobar2000 to become this with plugins, because I hear it's damned versatile, but I have no clue.

- I forgot how much I love Jacqueline Carey's writing. She has such a way with dialogue, the narrator's thoughts, and labyrinthine Renaissance political intrigues. It almost fills the hole left by no more Gemmell, and leaves me wanting for a good movie set in this time period with excellent characters/dialogue.

- Brainstorming and drafting up my cover letter for Nico tonight left me really jazzed. Even if the position doesn't work out, I should really start practicing more Javascript/web design in my spare time. My goal: make sites more personal, simple yet intriguing, and with less information-noise. (Nico, I'm thinking of your simple MySpace page.)

- "Such Great Heights". Who did this song originally? I'm listening to the Iron and Wine cover from the Garden State soundtrack and it's goddamn beautiful.

- I have to pimp out the framing/hanging job I spent two hours working on this past weekend because I am so proud of how well it turned out. It involved a plethora of measurements, pencil marks on my wall, and experimentation with sticky-velcro hanging stickers: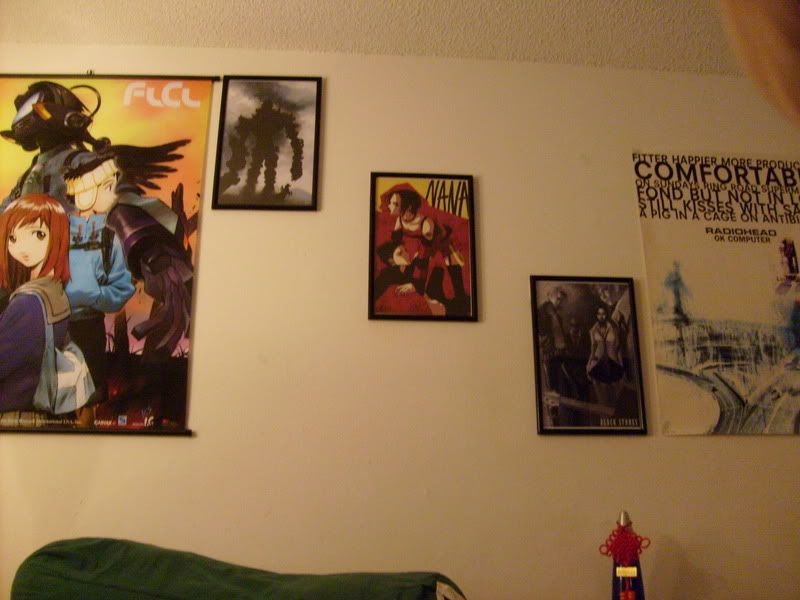 - Plain, strong dark chocolate is delicious. As it is with raspberry bits in it.

- I'm venturing into eating healthier. Tomatoes, blueberries and nuts daily, spinach and carrots on occasion, cutting back on sodium. I hope I have the resolve to make it last.

- Blades of Glory was pretty hilarious, but the highlight was definitely getting to see Jenna Fischer in lingerie. I am an easy man to please at times.

That is all.